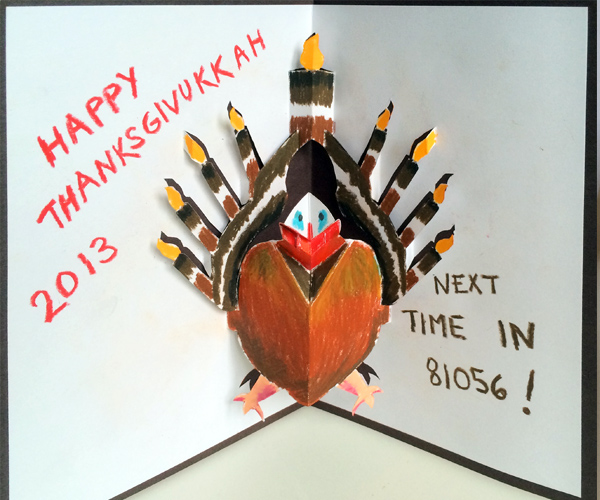 Menorah + Turkey = Menorkey! Those of you who are American and Jewish will know that 2013 was a very special year: Thanksgiving and Hannukkah overlapped for the first time since 1888. We'll have to wait much longer for the next occurrence: Thanksgivukkah won't happen again for another seventy nine thousand and forty three years… so I couldn't resist, I had to combine a pop-up turkey with a Menorah to celebrate this once in many many lifetimes event. Happy Thanksgivukkah!
This template is FREE, but if you'd like to support my work please feel free to name your price! If you do, I will…


…with a template for this pop-up thank you card.
Please note: the template you are downloading will be blank — this is a do it yourself, decorate it yourself project! I decorated the card photographed above, and I hope you will share your work here too!
All my downloads include a template for you to print and instructions. Following are a few photos which should help you fold the card: