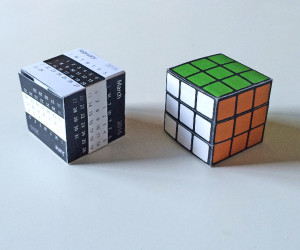 If you want lots of cubes to give out as party favors, "save the date" invitations, or even (with a special custom label) as corporate gifts, a DIY download just won't do. You need a cube which can ship flat but is already printed, cut, and folded, ready to pop into its 3D shape in seconds, without the need for any special skill, tools or glue. To order a small quantity (2-200) of either (or both) of these designs, please click here.
Calendar or Rubik's cube in bulk
If you would like to order a large quantity (3000 thousand minimum) of either design, please fill out the form below to request a quote. Please note that to order the Rubik's Cube® you will need the permission of Rubik's Brand Ltd www.rubiks.com for distribution or retail. Quote will be for the fabrication only, a copy of your license will be necessary to place the order of the Rubik's cube. No license is necessary for the calendar.
Custom Paper Puzzle Box
A fully custom-printed cube — whether it is based on the Rubik's cube or calendar, or whether it is an entirely new design — must have a minimum order of 3,000 cubes. There will be a lead time of at least 15 weeks: each cube must be assembled by hand, which takes time!
Request custom boxes or bulk rates