Here are a few examples of our custom pop-up cards. Commission your own pop-up to create unforgettable marketing materials, powerful presentations, precious keepsakes or unforgettable gifts.
Pop-up model of Citi Field Baseball stadium in Queens, NY. Designed as a table centerpiece for a party held in the stadium's "Acela Club."
Two versions of one iconic building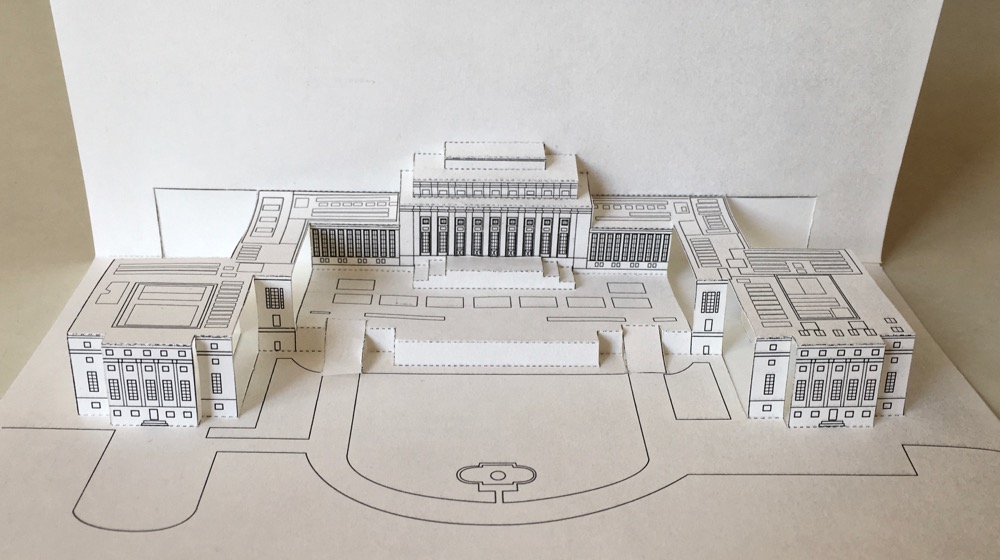 Palais des Nations (UN Headquarters) in Geneva as a 90 degree style card. Below, the front and back of the same building as a 180 degree style card.
Custom pop-up cards made for TV

The assignment was to make a pop-up wedding invitation with an "Arabian" theme for a TV show. Storytelling was essential to the design: the show's character is snooping around and picks up a glittering card. The tri-fold design served to increase the suspense and drama: first the character discovers the card is an invitation, then she finds out who is getting married — and she is relieved to see it is just the sister of her love interest! To make the card TV friendly the bride and groom are free standing and can be viewed from all angles, and the text is large. The art department provided a sketch of the Palace, and, working closely with the prop master, Make Anything Pop-Up transformed it into the third dimension and produced three gilded prototypes in record time.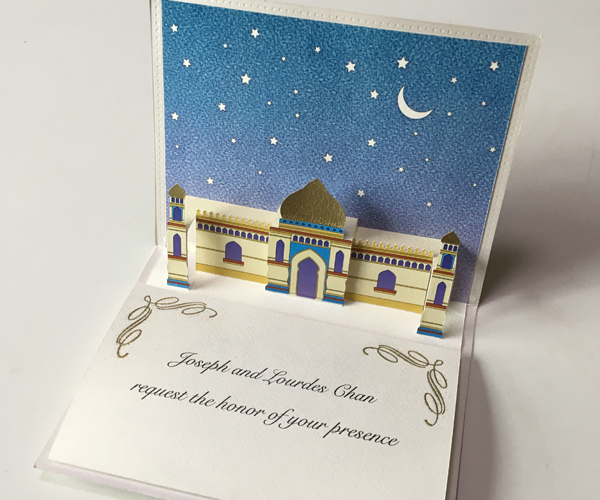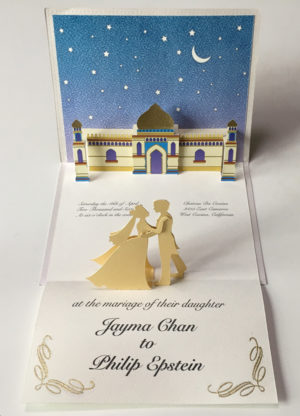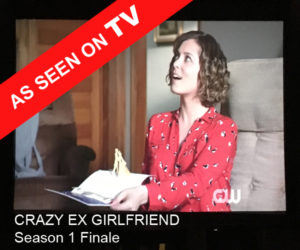 Custom Collaboration
The owners of Greene Acres Barn, a beautiful event venue in South Carolina, wanted to send a special thank you card and keepsake to all the lucky couples who wed in their barn… and they needed to customize each card with the names of bride and groom. The solution? A freestanding pop-up replica of their barn which they can quickly glue onto any individually printed card.
Pop-up Architecture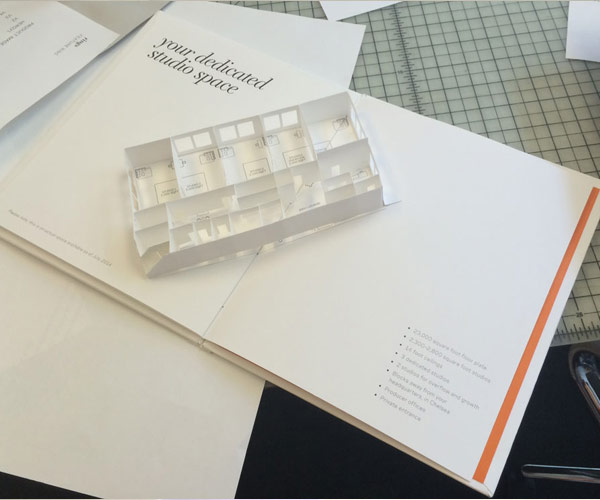 This 3D architectural plan was commissioned by an advertising agency for the presentation of a studio rental space to a potential client. The custom pop-up design was incorporated into an impressive hand-bound book.
A very special invitation

This wheel and airplane pop-up card were the product of a close collaboration with a wonderful mom whose only wish for her birthday was to spend some time with her busy grown children.
How to order a custom pop-up design
The more information and images you can share about your idea, the better. What type of card do you have in mind? A full 3D model like the Citi Field pop-up or the barn? A photo realistic card which opens at a 90° angle like the piano above? When you know what style card you want, click here and fill out the form. Specify how many cards you'd like, from zero (if you need a digital template you make yourself) to thousands; what size do you want the card to be? Are you're using graphics (photos, logos, text, etc)? Will you be providing some of the materials and artwork or do you want the full package, including both paper engineering and custom design? Let's talk!