For those who would rather laugh than cry, this is a cross between René Magritte's famous "Son of Man" and his even more famous "Ceci n'est pas une pipe." All resemblance to any actual person is (almost) entirely coincidental.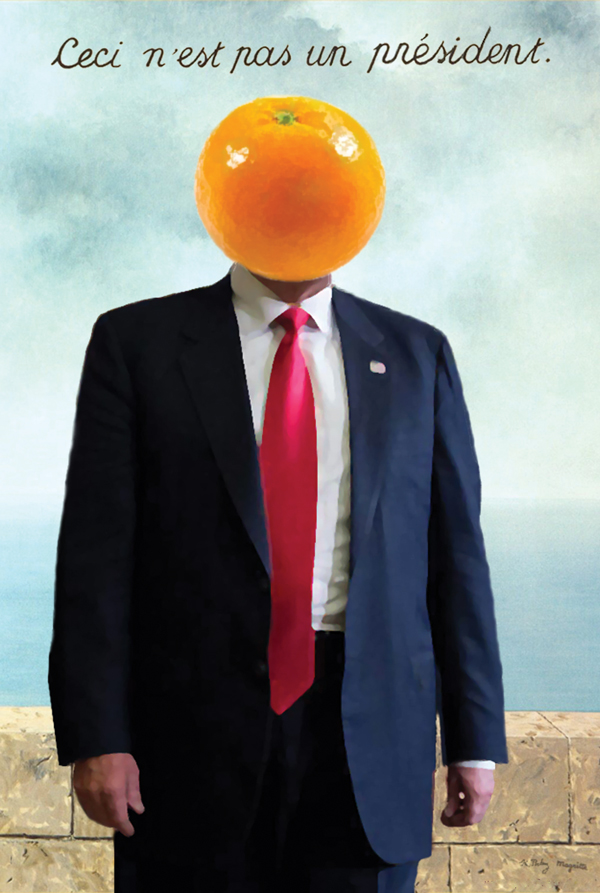 "Ceci nest pas un président" is NOT a download!
This artwork is designed to be worn, printed on a bag or a mug, or mailed in bulk to your representatives in Washington DC (use this tool to find their contact information).
Select your card selection above, or scroll down to view other printing options. The cards are printed on 14pt premium uncoated paper (so you can write your message with a regular pen).
Remember, THIS IS NOT A DOWNLOAD! Cards will print in 3-5 business days, then shipping will add 2-6 days, depending on your location (your cards will be printed in Texas or northern Kentucky). Shipping fee of $2.50 for 10 cards, or $12 for 100 (for US only) will be added at checkout.
Order artwork on T-shirt, mug, cell phone case, tote bag, etc
Click on image below to order this artwork on a mug, T-shirt, phone case or on a number of different items. Your order will be fulfilled by Galloree, an online print-on demand retailer.