The Chinese finger trap is traditionally made of bamboo, but this amusing toy can be easily crafted from an ordinary sheet of paper. Put your finger in this pretty paper tube and then try to pull it off. The harder you pull, the tighter the weave becomes. You're trapped! Even the Star Trek character Data was ensnared by this ancient toy. To escape, all you need is a soft touch. Push it gently off your finger, rather than yanking on the other end, and it slips right off.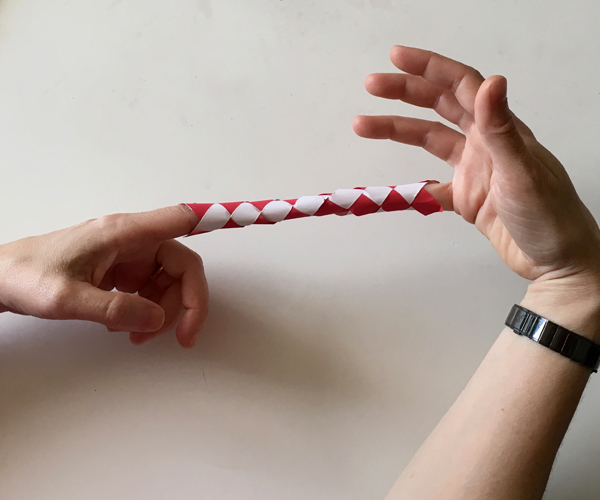 This traditional toy is also very quick and easy to make! You can download free, printable instructions buy clicking on the button below, or scroll down for online instructions.
Support Make Anything Pop-Up by naming your price, or download printable PDF instructions on how to make a Chinese finger trap for free.
How to make a Chinese Finger Trap
Materials:
Standard sized paper (letter or A4) in contrasting colors if desired.
Glue
A wooden dowel, rod, or pencil which is just a little narrower than your finger. You can also roll a sheet of paper and tape it to create a stiff form of a suitable width.
Tools:
Ruler
Thumbtacks or tape
Scissors or skalpel knife and cutting mat
Steps:
Cut 4 strips of paper, 1/2" wide (or 13mm) along the long edge of your sheet of paper.
Make two L shaped pieces by gluing two strips together at a 90° angle.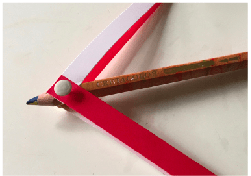 3.
Temporarily attach the L shaped strips of paper to the opposite sides of your dowel using thumbtacks or removable tape.
4. Weave the strips together as shown below, tightening them lightly around your form as you go.

5. When you have woven the finger trap to the desired length (about 5 1/2" or 14cm), glue the strips together, on two opposite sides, where they overlap.
6. Remove woven paper from the form, and cut off the excess paper strips.
I baked a real yellow cake and frosted it with sinful butter cream frosting, to create this printable cake. Enjoy your slice guilt-free! If you'd prefer to do your own decorating, the download also includes a blank template with only the cut and fold lines.
This is an all purpose printable pop-up card: a slice of cake is perfect for a birthday, of course, but also as a Valentine or to celebrate your first wedding anniversary, when tradition dictates gifts made of paper, and consuming the left-over slice of wedding cake.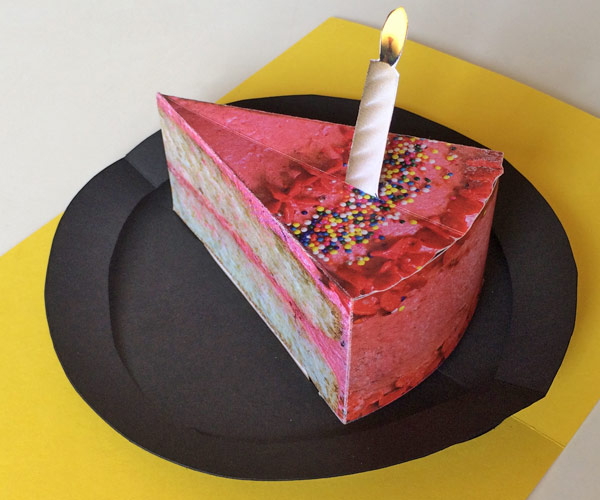 Print a ready-to-eat slice of cake, or decorate your own
The template comes with a photo realistic, home baked pop-up slice of vanilla cake but you can also choose a carrot cake or a blank template with cut and fold lines, so you can decorate your own. You can choose from a selection of sentiments to add to the interior of your card (including "Happy Birthday" "Be Mine" "Happy anniversary" or "Happy Valentine's Day") or use the blank heart to write your own message. The exterior is equally easy to customize. You can glue your cake with its plate inside any card (even a store-bought one!), as long as your folded card measures at least 4.5″ by 6.25″ (11.5cm by 16cm).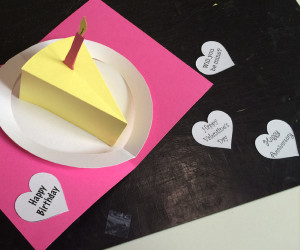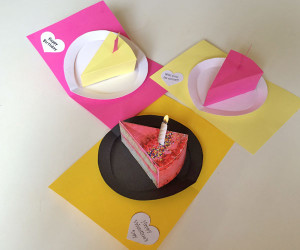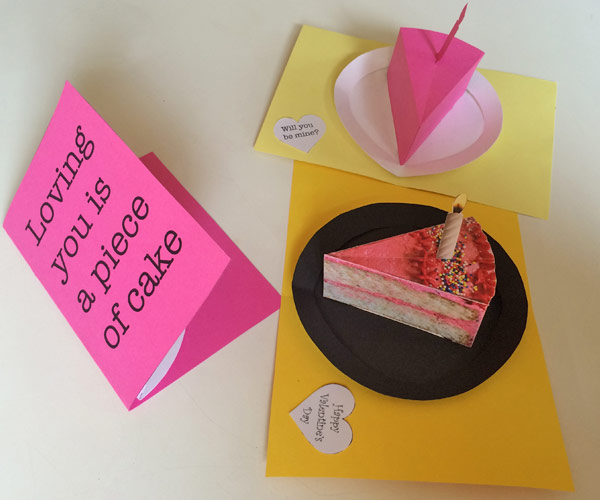 Looking for a birthday card? Here are some other birthday and anniversary ideas.
Choose a healthy carrot pop-up cake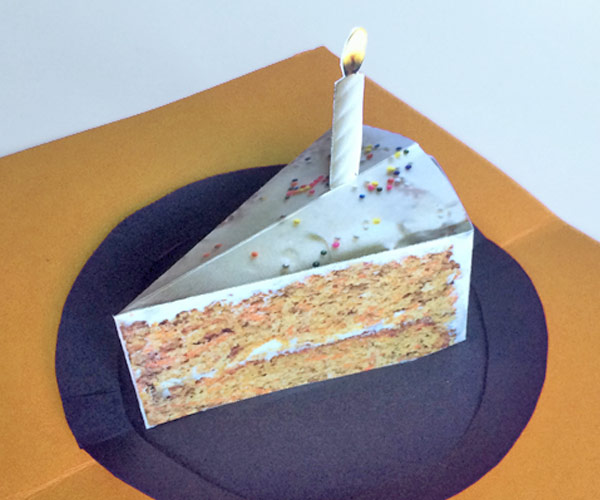 Same pop-up, different cake for those who like their veggies sweet. The front card text is slightly different in this version: "Loving you is a piece of…" it says, leaving the punchline inside the card.

Two completely new, and completely novel designs are now ready for you to download.


I recently posted the template and a video tutorial for a 2015 desktop calendar. It is a cube with 6 faces, and on each surface there is one month — yet the cube displays all 12 months! You can watch it in action in this video, but the only way to REALLY understand it is to make it — and even then it can be hard to grasp! But it IS easy to make….
This is a completely unique box design (which I am in the process of patenting) and it has many possible applications. Beside the calendar, it also makes an awesome Rubik's cube. Besides a toy, it can be a gift box (it comes with a matching pop-up gift label!). Or it can be swag. You will be able to customize it with your name or logo and mail it to your favorite customers, fill it with sugared almonds and give it to all your guests at your wedding. Or just get a ten-pack and hand it out as a birthday party "goodie-box"
For now, only the downloads are available but I have also designed a slightly different version for mass production. It will look the same from the outside, but will not require any cutting or gluing to put together. Production will be financed with a Kickstarter campaign, so stay tuned for that announcement!
Rubik's Cube® used by permission of Rubik's Brand Ltd www.rubiks.com
I know mid September is a bit late for a "back to school" card — so to make up for my tardiness you can have this new card for free. From now till September 30th use the coupon code BACK2SCHOOL when you check out.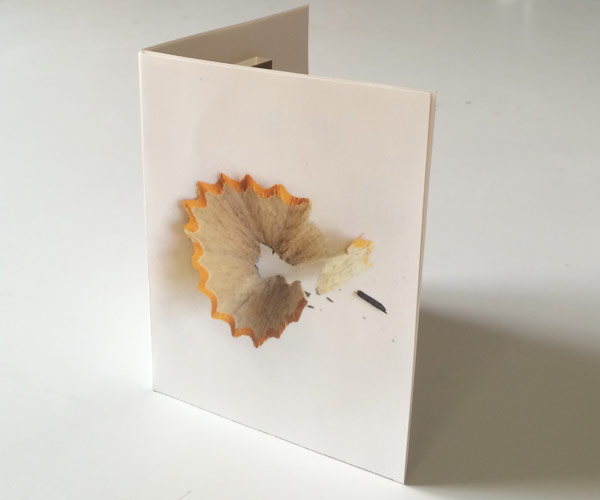 This template is printed on one side of a single sheet of paper so it's very easy to make a finished card (complete with the front and interior) in just a few minutes. The download includes instructions and two versions, one with the text pictured below, the other blank (the pencils are there but not the text or doodle). This means you can make up your own caption; this doesn't have to be a "Back to School" card, it can be used for any occasion you dream up.