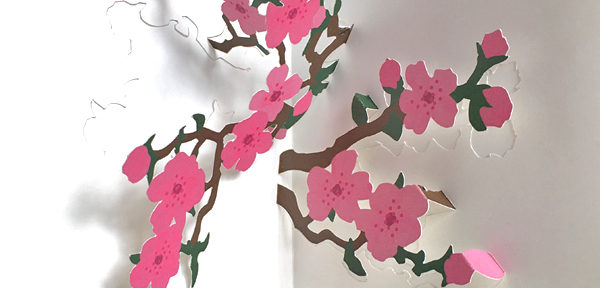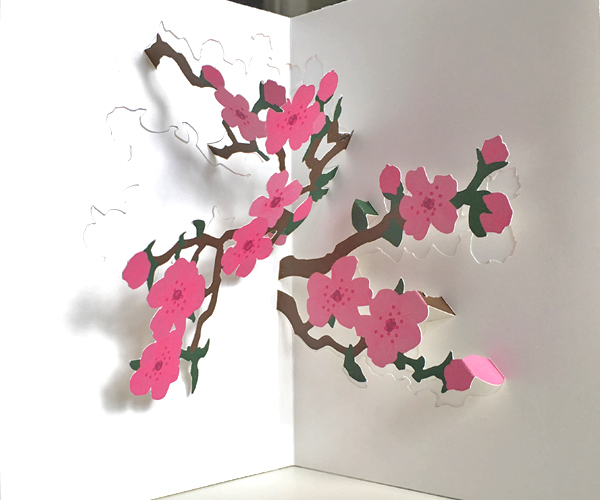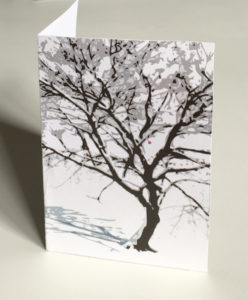 In early Spring, when the last snowfall of winter has barely melted, cherry blossoms burst open with all the color, joy and hope of a fresh new beginning. With this pop-up card you can share the excitement of Spring for many occasions; it is perfect for mother's or Valentine's day, but it is also suitable as a get-well or even a condolence card. The cover design, included with the download, shows a cherry tree weighed down under the snow, with a single pink bud. Open the card and flowering branches sweep across the page and pop up in all directions. This is a message of hope.
This PDF file is formatted to print on a letter sized sheet of paper. Your finished card will be 4″ by 6″
How difficult is the Cherry Blossoms pop-up card to make?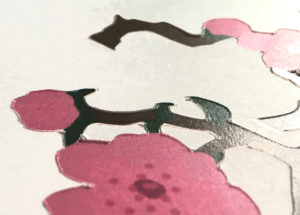 Once you cut out the branches, this pop-up card is very easy to make… which is a roundabout way of saying you will need skill, patience and a very sharp scalpel knife to cut this by hand. For this reason, you will soon have the option to purchase a die to cut this design from our friends at Pinkfresh studios. Stay tuned!
You must log in and be a buyer of this item to submit a review.