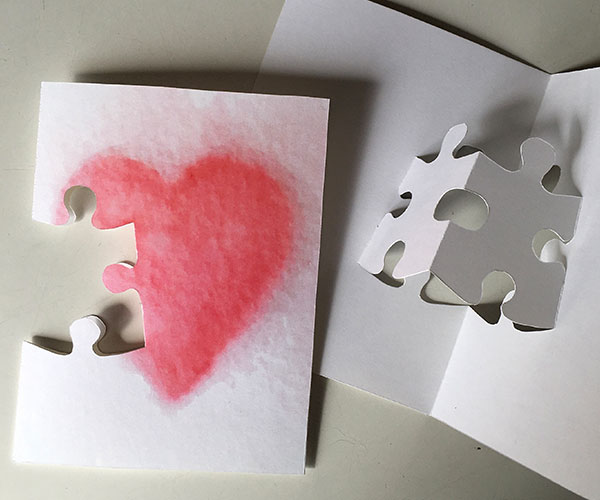 The most frustrating thing which can happen when you're about to solve a puzzle is to be missing that last puzzle piece. Open up this pop-up card and you will discover not one, but two jigsaw pieces "holding hands." The simplicity of the design belies the many sentiments you can convey: this card can speak for romantic love ("a piece of my heart was missing till I met you!"). Use this design as a condolence card ("I'm here for you") or, with a company logo on the cover, congratulate a new member with a pop-up "welcome to the team!"
The download includes a hand-painted watercolor heart or a blank version so you can add your own artwork. The card is very simple to make: just fold a sheet of paper in half, cut through two layers at once and then pop-up the puzzle pieces. However, you will need a scalpel knife
to do it right (see tools and materials).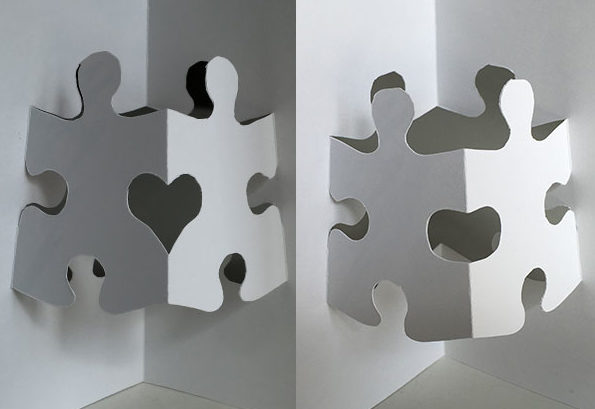 For the interior, you can choose to join the two pop-up puzzle pieces either with a heart or a more neutral rounded shape.
The printable template is formatted on a letter sized sheet but it can be printed on A4. The finished card is 5.5″ by 4.25″ — minus that bite-size missing puzzle piece!
You must log in and be a buyer of this item to submit a review.