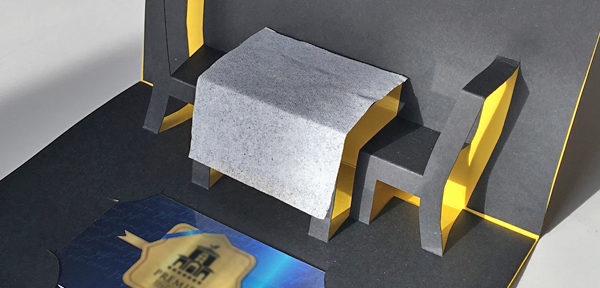 The best presents are often those which can't be wrapped in a box: experiences. Give the gift of dinner, a movie, tickets to a sports event or concert! Unfortunately, as wonderful as these are to receive, it is hard to turn experiences into an exciting tactile gift.
Here is your solution!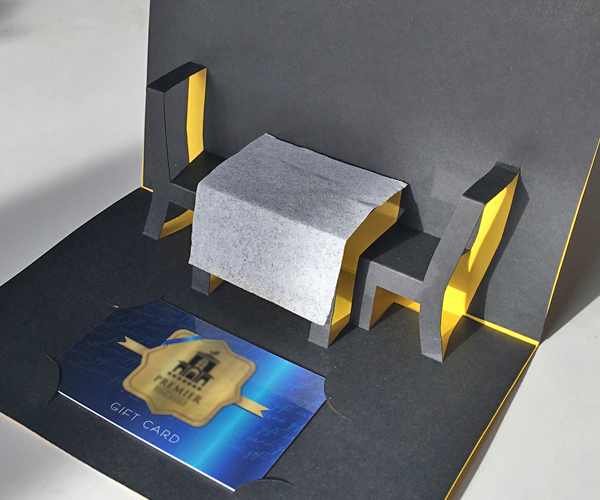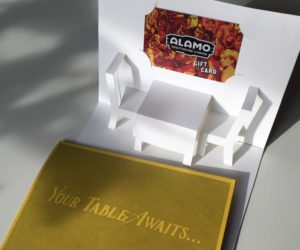 Download and make this very easy and quick pop-up card designed to present a restaurant gift card. The template includes a cover announcing that "Your Table Awaits…" with a simple design, printable on either white or colored card stock. Open the card and discover a table with two chairs. Notches will fix any standard plastic gift card prominently in place.
Restaurant Gift Card "A la carte"
Download and make this printable template in just a few minutes (especially if you have the right tools) for a one stop solution, or customize it and decorate to your heart's delight.
Use the cover which is included with the download, glue the pop-up interior to any standard 5″ by 7″ card, or design your own cover!
Attach the restaurant gift card either on the wall above the table, or on the floor, like a carpet.
Add a table cloth (in the photo above, this was a piece of tissue fixed to the table with double-sided tape).
Draw on some plates, glasses, wall-paper, a hovering waiter, a bottle of wine, and presto! You have turned a generic plastic gift card into something really memorable and personal.
Add printed text to your design. Since this card is symmetrical, you can easily use the template as a background image to position any text you'd like to print on the front of the pop-up (the cut and fold lines are printed on the back of the pop-up elements, so they are not visible when the pop-up is glued to the cover).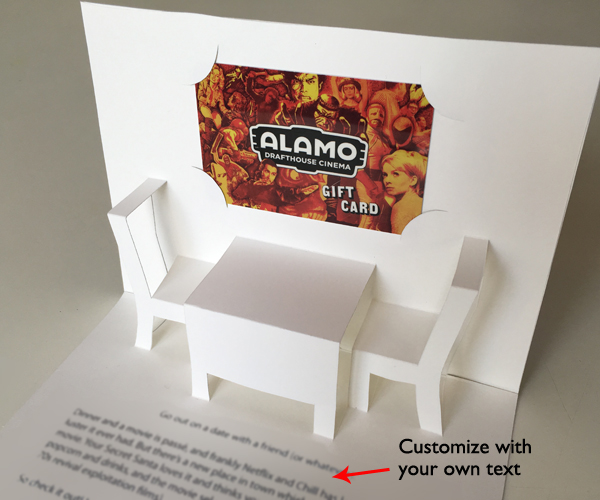 You must log in and be a buyer of this item to submit a review.