MakePopUpCards.com was launched in 2012 with the goal of sharing knowledge and affordable pop-up cards worldwide. The site was founded by paper engineer Katherine Belsey, and featured her designs exclusively — until now.
MakePopUpCards is currently accepting applications from paper engineers and artists who would like to sell or share their downloadable designs without the need to pay for a domain, a web designer, a host, or to set up an account with a credit card processor. No need to develop a client base and email list… we already have a faithful audience of paper engineering fans and an email list of over 10,000 individuals worldwide, who all voluntarily signed up and confirmed their subscription.
Unlike the audience of general, un-curated marketplaces like Etsy, our subscribers are dedicated DIY paper crafters. And unlike other market places, you can share your work for free — to gain exposure, drive traffic to your personal website or simply for the joy of sharing — and without paying any fees.
The Fashion Art and Design (F.A.D.) Market is an annual holiday market which brings together local makers and designers in the undercroft of St Paul's Church at 190 Court Street in Brooklyn. But this year, for the first time, it truly IS a pop-up market, since I will be participating. Next to the assortment of talented potters, jewelry makers, leather craftspeople and soap makers, you will finally be able to buy pop-up cards at the pop-up market.
Join me this coming Saturday, December 10th 2016, from 11am to 6pm. I will be selling the Pop-Up Paper House (with a 10% discount) as well some F.A.D. exclusives: the Citi Field pop-up card and some ready-made puzzle cubes and cards. This is a very rare opportunity to get pop-up cards without having to make them yourself!
Let me know if you're coming to the F.A.D. Market on Facebook. Hope to see you there!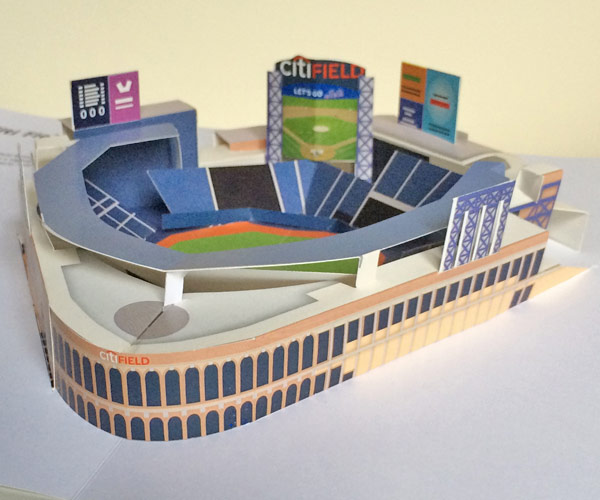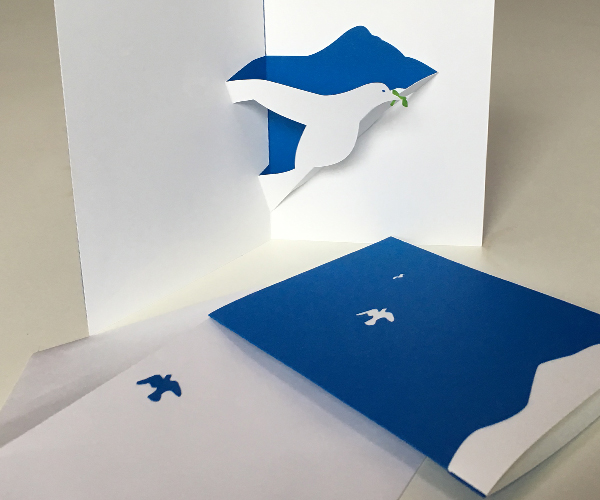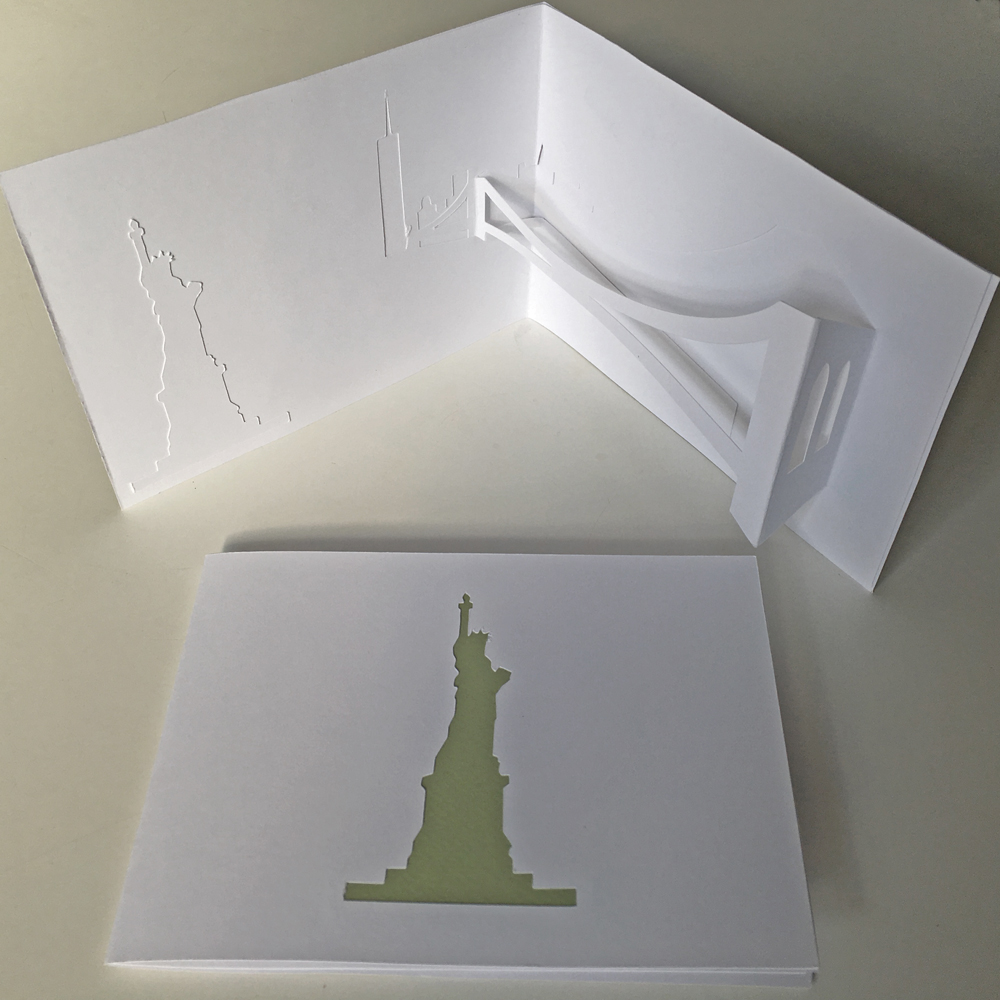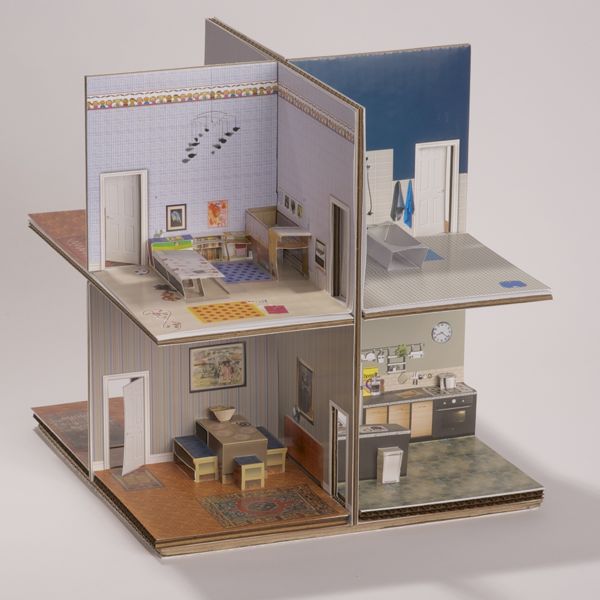 Peace and Pop-Ups
Before the frenzy of the holidays really hits, I wanted to send out a newsletter celebrating diversity, tolerance, and peace. I also wanted to remind everyone that the 30% sale on the pop-up paper house will expire soon!
Whether the occasion is a birthday, an anniversary, mother's day, employee appreciation day, Christmas or Hanukkah, sometimes the most considerate gift is a little piece of plastic — a gift card. Make yours personal with this printable pop-up shopping cart. Its built-in credit card sized slot makes it the perfect vehicle to deliver your gift certificate. Print it out on a single sheet of paper, cut it, fold it, then send out your invitation to a memorable shopping spree.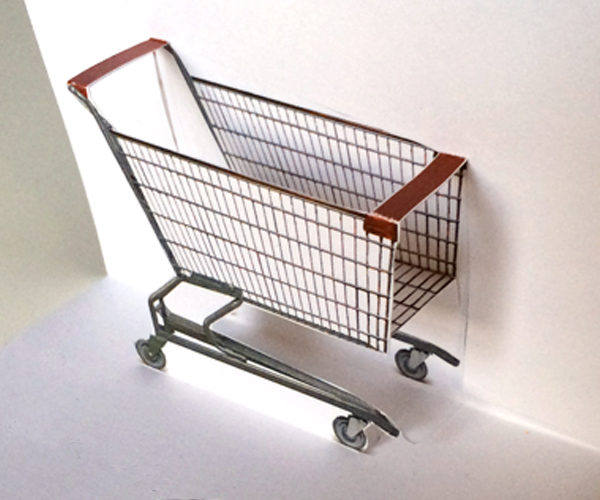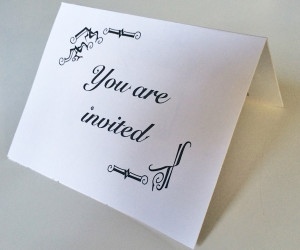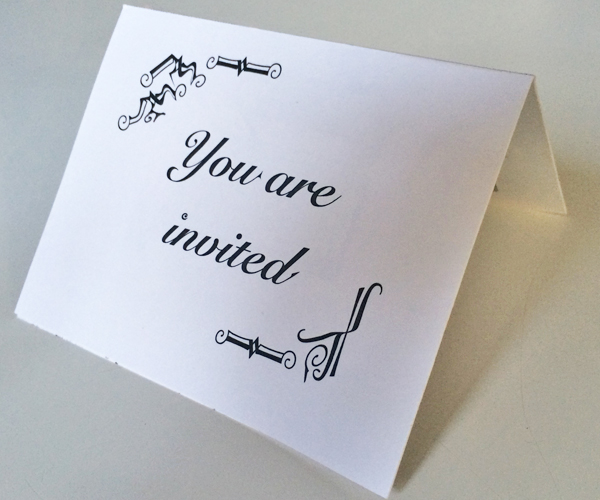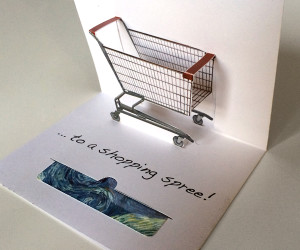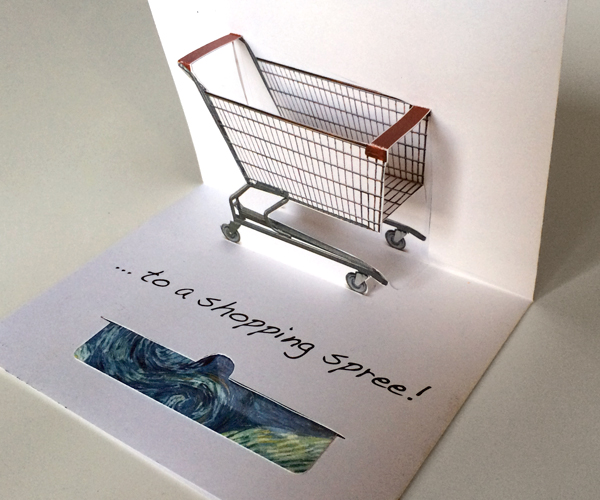 My  February newsletter went out yesterday with ideas for hand-made Valentines. Check out the 2015 Valentine Calendar (50% off!) and other paper ideas.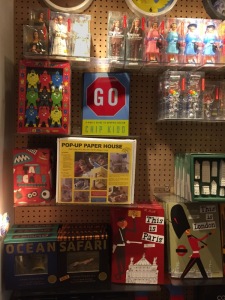 The Pop-Up Paper House is now for sale at the wonderful Kikkerland Shop in NYC, at 493 6th Avenue (that's right above 12th St, in Greenwich Village). It's a wonderful gift shop full of interesting and beautifully designed items.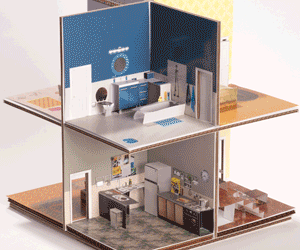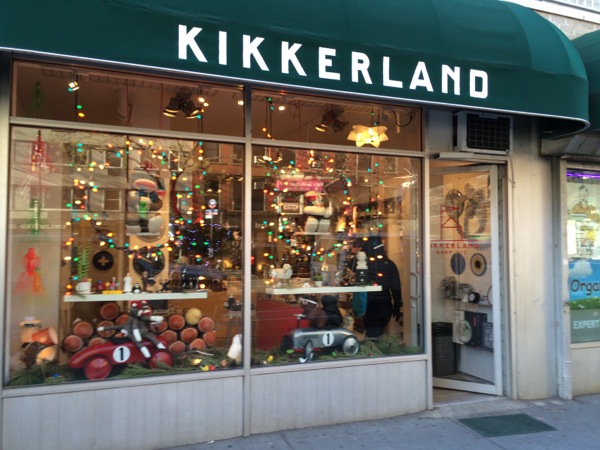 If you're in Brooklyn, you can get it at the Brooklyn Women's Exchange or at Heights Kids.