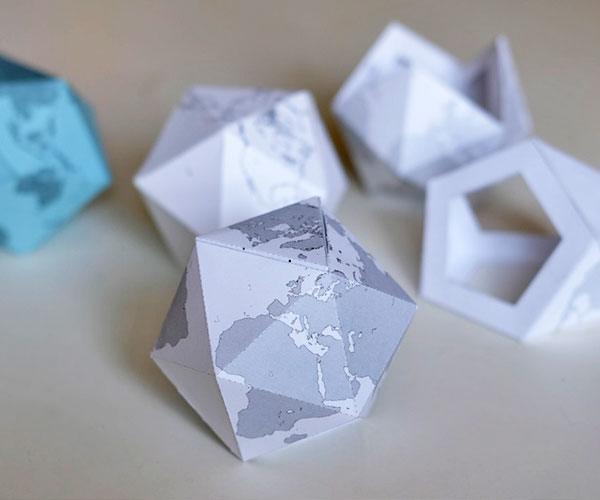 The word is yours to make! This printable globe is made of two interlocking parts, which makes it MUCH easier to assemble, and super sturdy.
An icosahedron is a 3D form composed of 20 equilateral triangles — a gorgeous mathematical volume — but like any solid paper model you make it will have the same problem: how do you glue that last side? And how do you fix it if it gets smushed?
When paper engineers talk of nets, they are not discussing the best way to catch fish; they are discussing the best way to put together the flat planes which, when folded, create 3D space. A "net" in paper engineering jargon, is the 2D pattern for the 3D volume. The more planes (aka flat areas) there are, the more nets you can theoretically draw to create the same volume — but not all nets are created equal! Some might use more paper than others. Some might create a sturdier volume. Some might be easier to fold and glue together. The art of paper engineering lies in finding the right balance between economy of material, sturdiness, and ease of assembly.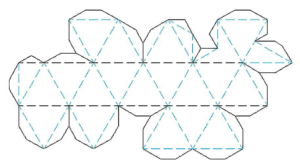 Buckminster Fuller spent a decade pondering the best way to draw a printable globe on a icosahedron, but in his quest to avoid cutting continents, he created a net which split some of equilateral triangles. Many of the free downloads you can find online use this inelegant net. The National Geophysical Data Center has a colorful version (free download) using a much simpler net, but I wanted a sturdy template with a simple line drawing. That is why I created this two piece, interlocking net. The map was drawn from multiple sources, but principally adapted from kbit's Dymaxion map for laser cutting on Thingiverse and from the open source openstreetmap.org.
This download includes a blank net, a globe with the landmasses printed in grey, and a line drawing globe to color yourself. It is formatted to print on two sheets of US letter size paper, but the image can also be printed on A4 paper (depending on your printer you may need to scale the model down very slightly). Once assembled your globe will be about 4″ tall.
Learn more about polyhedra paper models and download many free models here (polyhedra.net is a non-affiliated website but a great resource). You might also like this kaleidocycle.
You must log in and be a buyer of this item to submit a review.