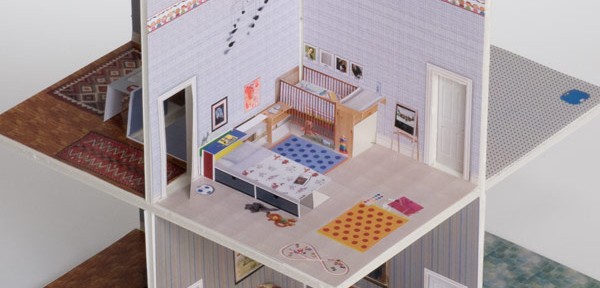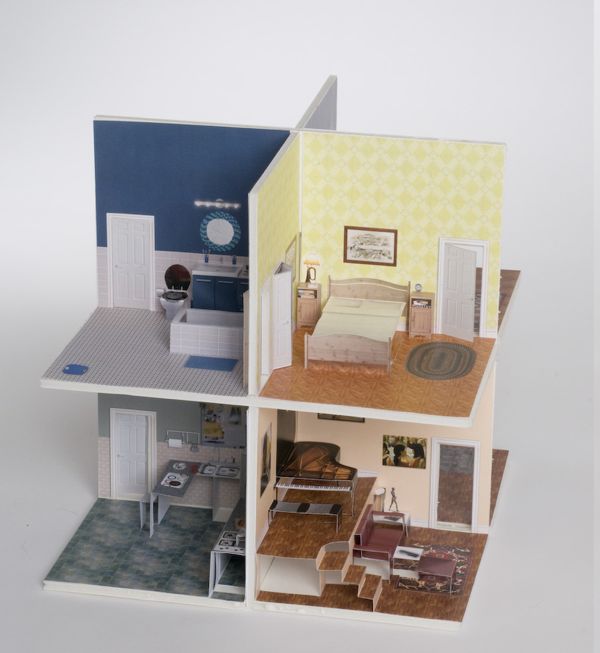 This download includes all the digital files necessary to build the house. Each room consists of two interlocking pop-up cards, so there are a total of 16 pop-up cards to make. An entire, freestanding house requires a sturdy structure in addition to the individual pop-up rooms. This PDF download includes instructions and a full sized pattern for making a simple knock-down structure out of foam core which fits together (and comes apart) like a 3D puzzle without any additional hardware.
The pop-up room PDF file is formatted for letter sized paper, but it can be printed on A4 paper without cropping the image. The full-sized house structure pattern is formatted for tabloid sized paper (11″x17″) or on regular letter or A4 formats in case you do not have access to a large format color printer.
Download includes illustrated instructions. Each card must be printed, cut, scored, folded and glued. It is a very rewarding craft project, but if you would like a quicker and easier project, this house is also available as a boxed kit, with all the templates (including a house structure) printed, cut, and scored for you.
Completed house is a little under one cubic foot (each room is 5 cubic inches), and the scale is 30:1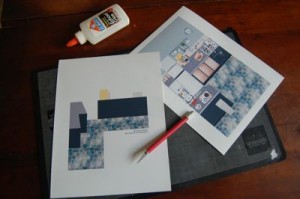 For ages 7 and up (for playing) & 12 and up (for making).
You can also view a video tutorial to make the kitchen, and to see the completed house being assembled and taken apart for storage.
Read how this house came to be.
Buy a PDF file for the whole house or get each room one at a time.
| | |
| --- | --- |
| Category | 90 degrees, Advanced, Pop-up house |
| Design Notes | All three house structure files are identical, but they are formatted to print on different sized paper. Tabloid sized is recommended for ease of use and precision. The other two formats require cutting and pasting shapes too big to fit on a single sheet of paper. Pop-up templates and instructions are formatted for letter sized paper but you can also print them on A4. All templates should be printed full size, with no scaling! |
You must log in and be a buyer of this item to submit a review.