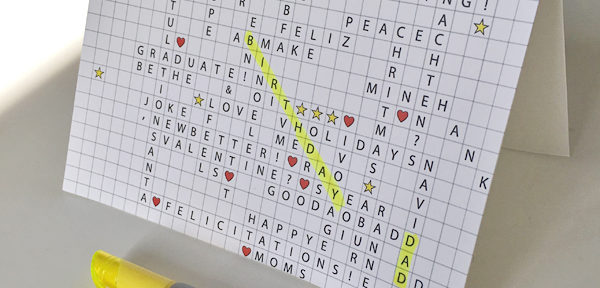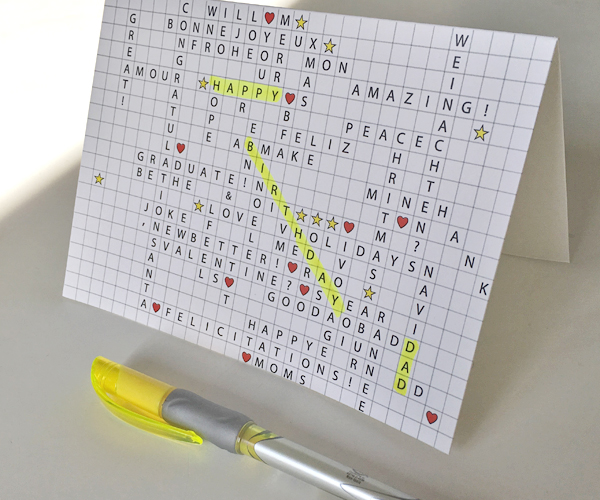 This versatile universal cover can be used for practically any occasion. Pick out the sentiment you'd like to send, find the word or phrase hidden in the grid, and highlight it! This word puzzle card even includes phrases in French, German and Spanish — and there's plenty of room for you to add your own words or names.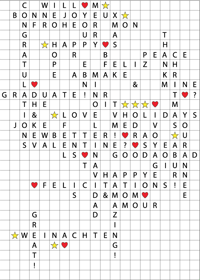 The printable template comes in a wide or narrow version, so you can use it for a horizontal card like the restaurant gift card holder, or a vertical pop-up like these mountains. Both versions are included in your download.
Phrases or words you can find in this word puzzle
Happy Holidays
Merry Christmas
Joyeux Noel
Feliz Navidad
Frohe Weinachten
Peace
Hope
Santa
Happy New Year
Bonne Annee
Happy Birthday
Bon Anniversaire (or Joyeux anniversaire)
Will You Be Mine?
Will you be my Valentine?
Mon Amour
I love you (Mom/Dad)
You are the best (Mom/Dad)
Thank you
Congratulations (grad/graduate)
Felicitations
You are amazing
You make me happy
You make me feel great
Be good/bad/happy
Feel better
Bon voyage
Print your universal cover
Although it is formatted to print on letter sized (8.5″ by 11″) paper, this standard 5″ by 7″ card will also print on an A4 sheet without any cropping or scaling. Use this with an A7 envelope size.
Order prints to be shipped in bulk
When you want to mail out cards to a large group of people, printing and making them all yourself is not the best option. Please fill out the form below to request a quote.
All cards are professionally printed on heavy 13pt matte cover stock.
If you have other custom requests please use the comments field.
You must log in and be a buyer of this item to submit a review.